**** Quarter Auction ****
Saturday, May 5th
Camden-Wyoming Moose, 760 Moose Lodge Rd, Camden- Wyoming, DE

Doors open 5 pm : Auction at 6 pm - Tickets, $7 in advance : $10 at Door You receive 2 paddles & ONE bid covers both paddle numbers! Advance ticket buyers are eligible for a $50 gift certificate drawing!

Food Available! Limited Seating

Contact Kim at 302 757-0525 : email:deqaconsultinggrp@gmail.com or Jim 302 424-1504: email: DLSM@dlsm,org

Many Great Prizes! 12 Vendors!





BECOME AN EVENT SPONSOR ~ HELP US SAVE THEM!

REMEMBER! WE CAN NOT EXIST WITHOUT YOUR SUPPORT!

Be A Friend to Animals! ~ PLEASE!


We are Looking for a Few Dedicated Volunteers!
If you have an idea for a fund raising event and the management skills to run it - PLEASE Call Us (302) 424-1504. We would welcome a group to do a golf outing with us!

We need clever fund raising ideas and clever people to make things happen! Manage an event for us!
Maybe we are right for each other.

A donation to Debbie's Fund in someone's name makes a unique gift.
Send us the names along with the check and we will send out a card and letter telling the recipient of your gift!
GREAT for Any Occasion Giving!

UPDATES:

For Information about DLSM News and Fundraisers, contact any Trustee or

Send us your email address!
Visit our FACEBOOK Pages: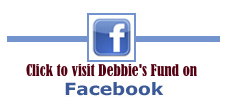 RECENT MEMORIAL NEWS

"Share the Season 2017" was a success! Thanks to all who donated!
As part of our 2017 "Share the Season" event we had a "partner tree "at Grotto's Pizza in Milford as part of their 21th "Parade of Trees". On display Nov. 22 to Jan. 1. Thanks to Ernie Moore & Joyce Cohee for decorating our tree. Our 2017 tree received the most donations and received an additional $250 from Grotto Pizza! Thanks to Milford Grotto Pizza and all the partners that donated!
In 2017, we granted 1st. State Animal Center/SPCA , Sussex County Animal Assoc./WAR, and Purrfect Haven Cat Rescue for the 14th straight year. We also granted 6 other groups in Delaware. Thanks to Concord Pet Foods and Supplies for help with the granting.

To See Older Memorial News Click Here. **

NEW DEBBIE'S FUND T-SHIRTS ARE AVAILABLE!

The white Tees with DLSM logo and paw tracks on the front. $10 each! To order: Call or email us!

PLEASE HELP DEBBIE'S FUND GROW!

Click on the dog to make a donation!






PRESS
The first full page article about Debbie and the Memorial appeared in the Dover Post newspaper on July 6, 2005. Since that time the press has given us and our events excellent coverage. Press coverage has been instrumental in our success and we thank The Milford Beacon, The Delaware State News, The News Journal, The Milford Chronicle, The Cape Gazette, The Dover Post, The Harrington Journal, Milford Live, Cool 101.3 & Eagle 97.7 radio, and WBOC-TV. (SEE "DLSM PRESS" in the PHOTO GALLERIES on this website)